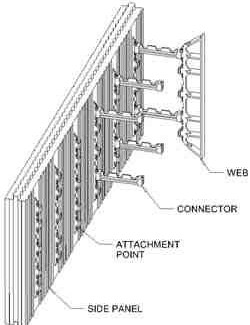 The ECO-Block ICF is composed of three components
(See Cutaway View): ECO-Block Concrete Form Setting
Side panels
Webs
Side panel connector elements
The ECO-Block ICF system consists of two types of plastic: Expanded Polystyrene (EPS) and high-density plastic. Each block has two side panels, each measuring 1200mm long by 400 mm high by 65 mm thick.
These side panels are made of flame-retardant EPS. Every 200 mm on the horizontal axis of the side panel, there is a high-density plastic web that has been molded into the EPS side panel. These webs provide a surface on both the exterior and interior to attach finishing materials.
The connector element spans the cavity between the two side panels and connects the two side panels together to make the blocks. The connector elements and the EPS side panels are easily and quickly assembled on site.
The cavity made by the connector element can be varying sizes from 100mm, 150mm, 200mm or more depending on the length of the connector element. It is in this cavity that concrete is placed to make the concrete walls of the building.
After the concrete cures, the ECO-Block side panels remain in place and provide the insulation for the building.
Stack-and-Pour for Fast Walls
ECO-Block's easy-to-use process eliminates several steps that are necessary with wood-frame construction, such as sheathing and insulating the exterior walls. Made of expanded polystyrene (EPS), ICFs stack and lock into place much like LEGOs. Extreme heat, frigid cold, rain or sun — it doesn't matter — EPS insulates concrete, allowing it to wet-cure as it strengthens.
After the concrete cures, the plumbing and electrical installation can begin. The foam is easy to cut and remove so electrical lines can be installed. Plus, any exterior or interior finish can be applied — from panel and lap siding to brick, stone or stucco.
ECO-Block features a bracing system with unique alignment features to ensure a smooth wall finish. Only basic hand tools are needed to position and secure our lightweight blocks. High-density webs, integral to ECO-Block, provide furring strips for any standard wall-finishing product.
High-density plastic webs are recessed by 6mm, providing a uniform exterior to which any stucco or EIFS material can be applied. Having such a uniform surface provides superior adhesion and crack resistance.
Radius walls and angled walls can also be constructed with ease through simple mitering techniques.
ECO-Block leads the ICF industry in research and development. It's this dedication to continuous improvement that allows our customers to rest easy. We stand behind our products.
Need more info?